By Joy K. Dockter (Law '10), Central California Legal Services Health Consumer Center Staff Attorney and Tashara J. Kuspa, Central California Legal Services Health Consumer Center Team Lead
In 2017, a collection agency acting on behalf of a local hospital filed more than 200 lawsuits in Fresno County seeking to force low-income patients to pay their hospital bills. In Tulare County, the number was almost twice that. The vast majority of these cases resulted in judgments against patients who had either defaulted, or whose pro per answer to the complaint did not result in a meaningful defense.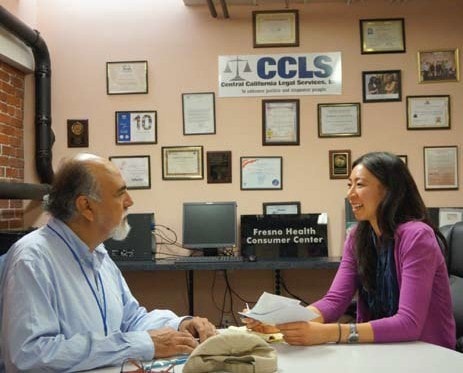 Hundreds of working Valley families who had sought critically needed medical care found themselves first struggling to pay the exorbitant cost of that care, and then struggling with life- changing judgments against them.
Central California Legal Services and its Health Consumer Center is changing that.
Hospital debt is not like credit card debt or past-due car payments. People who end up in the hospital rarely have a choice about going there. Sick or injured, a call to 9-1-1 leads to an ambulance ride and a hospital bill, without respect to the patient's ability to pay. Hospitals rarely, if ever, give cost estimates before providing treatments, or ask patients to choose their course of treatment based upon their ability to pay for it. In fact, the contract a patient signs upon arrival at a hospital Emergency Department, commonly referred to as "conditions of admission," is unlike any other. The multi-page document that many are too sick or in too much pain to read or understand states that the patient agrees to accept whatever treatment doctors think is necessary, and to pay whatever the hospital charges for that treatment. These terms are non-negotiable, and patients are rarely told they have a choice about signing. In some cases, hospital staff have been known to hold out the contract and instruct patients to "sign this so we can treat you."
When uninsured patients cannot afford to pay hospital bills, or when those with insurance cannot afford to pay their share, collection agencies usually try to collect that debt as if it was a defaulted car loan or a big TV that was bought and not paid for. Way too often, this leads to low and moderate income families being sued.
It should never be that way. Non-profit hospitals are mandated by State and Federal law to offer free or discounted care to families earning less than 350 percent of the federal poverty guidelines—currently $42,500 annually for an individual, or $87,850 annually for a family of four. Several hospitals in the Valley have either failed to advertise this fact at all, or failed to take the required steps to ensure patients actually receive these discounts.
California's Hospital Fair Pricing Act (Health and Safety Code § 127400, et. seq.) requires hospitals to offer financial assistance to their patients as a condition
of their licensure. Though the law has been in effect since 2007, it has rarely been enforced, and there is minimal case law applying the statute. Since 2016, Federal law also has conditioned non-profit hospitals' tax-exempt status on offering this assistance, requiring that they widely advertise the financial assistance programs and make "reasonable efforts" to determine if patients qualify, even if patients do not apply.
Even collection agencies must treat medical debt differently from other debt. Federal law (26 U.S.C. 501(r)-6) specifically requires that collection agencies'
practices conform with hospitals' financial assistance programs. But few collection agencies appear to be aware they have this obligation. CCLS has encountered case after case where collection agency representatives have told consumers that it was "too late" to apply for financial assistance, and even argued vehemently with consumer attorneys that financial assistance laws did not apply once a hospital assigned the con- sumer's debt to them for collection.
As part of its efforts to reduce lawsuits and collection activity against patients who qualify for help under the law, CCLS is working with several Valley hospitals to improve their policies on financial as- sistance. By reaching out to hospital ad- ministrations, educating them on the gaps in their policies, and offering examples of "best practices" to ensure patients get the assistance they are entitled to, CCLS is helping both consumers and hospitals. In cases where hospitals are resistant to this help—or where collection agencies refuse to acknowledge their obligations under the law—CCLS has made it clear that offering financial assistance is not a gift, but a legal requirement that hospitals must follow in order to operate as a non-profit acute care facility in California, and that a hospital's failure to provide qualified consumers with no-cost or discounted care may result in legal consequences for that hospital or debt collector. Through CCLS's work in this area, there already has been a sharp decrease in the number of lawsuits filed against patients in the Valley. In Fresno County, the collection agency responsible for the largest number of lawsuits against patients filed only six cases in 2018, down from more than 200 the year before. In Tu- lare County, one hospital collection agency has stopped filing lawsuits altogether due to CCLS's efforts.
Accessing affordable health care in the Central Valley is a problem for many. Through its Health Consumer Center, CCLS helps make sure Valley residents are able to get the care they need. By working with hospitals to ensure they comply with financial assistance laws, and taking ap- propriate legal action when they do not, we are helping to reduce the chance that an unexpected trip to the hospital results in financial ruin.
Disclaimer
Your use of this website, including posting comments will not create an attorney-client relationship. You should neither act nor refrain from acting based on information obtained from this site. None of the information contained on this site is privileged or confidential. The information contained on this site does not necessarily reflect the opinions of this firm or any of its lawyer, employees, or client. This information present on this website is based upon the law of the State of California.